Marla's Story - For her, Packard Health is indeed home
November 23, 2015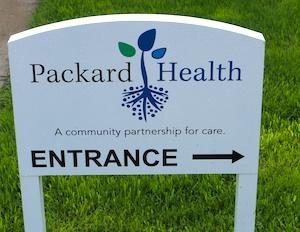 At age 26, Marla is no longer covered by her parents' health insurance, and her job does not provide any. Ill with high fever and chills, she went to the Emergency Room where a urinary tract infection was diagnosed and antibiotics started.
ER tests uncovered a much more serious health issue - diabetes. Marla was advised to schedule an appointment at Packard Health, which provides care to uninsured patients and offers a sliding fee scale.
The very next day, frightened and unwell, Marla called our office and was given an "urgent" appointment with Dr. Vicky Nichols. The receptionist alerted Karen Koeppe, Certified Diabetes Educator and Care Coordinator. Karen printed the ER visit notes, lab studies and discharge summary, debriefed Dr. Nichols, and met with Marla and her mother in a co-visit with the doctor.
Fears and concerns were defused, further in-office testing completed, free diabetes medication, blood glucose meter and test strips given.
Because Marla is low income and food insecure, she was assisted in Packard Health's food pantry and given fresh produce.
Two appointments were set up for Marla - one with Marisa Iadorosa, Patient Advocate, to apply for the Healthy Michigan Plan (Medicaid), and one with Karen Koeppe for comprehensive diabetes self-management education.
In an hour visit to Packard Health, Marla was reassuringly started on a path to better health. She is part of a team now, working together to improve her well-being.
"This is the most informative and reassuring medical office visit we've ever had.
I am so relieved that my daughter is connected to excellent care."
~Marla's mother