Chili to shake the chill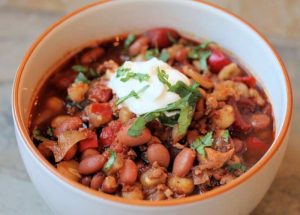 Lean ground turkey, canned tomatoes without salt, and a surprise spice in place of salt make it extra-healthy. The perfect time to whip up a batch of this chili is on a cold, blustery day. It will warm your insides in all the ways that are good for you!
Karen Koeppe, Packard Health's Nutritionist and Certified Diabetes Educator, shares this enlightened chili recipe.
Chili to Shake the Chill!
1 Tbsp extra-virgin olive oil
1 lb. extra-lean ground turkey breast
1 cup chopped onion
3 cloves garlic, minced
1 cup chopped bell pepper (green, orange)
3 cans (14 oz each) no-salt-added canned diced tomatoes - undrained
1/2 cup water
1 Tbsp chili powder
1 tsp cinnamon (really!)
1 tsp cumin
1/2 tsp paprika
1/2 tsp oregano
1/2 black pepper
2 cans (16 oz) pinto beans, rinsed and drained
Heat olive oil in non-stick skillet or Dutch oven; add turkey, onion, and garlic bell peppers and cook over medium-high heat. Brown turkey (stir frequently and break it up with the back of a spoon.)
Once browned (10 minutes or so), stir in tomatoes and cook 5 minutes. Add water, all the spices/herbs and mix well. Stir in the pinto beans.
Bring a boil, reduce heat to medium-low and simmer about 30 minutes until chili thickens.
Serve with a dollop of plain fat-free Greek yogurt or a sprinkling of low-fat shredded Monterrey Jack cheese.