TELEHEALTH TAKES OFF
Telehealth is Packard's new, smart tool in our patient care toolbox. The harrowing disruptions of the COVID-19 crisis – fear of infection, loss of income and insurance, food insecurity, mental health stress – are starkly real to many of our patients. Telehealth is a lifeline of care.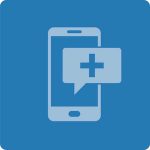 Packard provides both primary and mental health care through live video interactions and over the phone. Like an office visit, telehealth provides the opportunity for care for each patient. One patient is directed to come into the office, or get COVID-19 testing. Another receives a prescription or is referred to our diabetes educator. A trained medical interpreter can be linked in for patients with limited English proficiency. Some patients set up weekly appointments with their therapists. Others are referred to our patient advocates, to connect with an array of support services so critical at this time.
Many of our patients have serious health and wellness issues unrelated to COVID-19. Telehealth enables Packard to connect with them safely, in the time-tested and person-centered way we always have. Packard's vision is health care for all - now more than ever.