Arabian squash casserole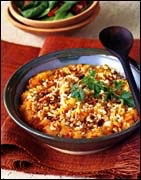 Packard Health's Registered Dietician, Karen Koeppe shares a great recipe, high in beta carotene and mono- unsaturated fat (nuts/seeds). It's one of her favorites from the Moosewood Cookbook by Mollie Kaizen.
Arabian Squash Casserole
Preparation Time: 1 hour (after squash is cooked and puréed). OR cut that time with frozen squash in recipe below!
4-5 servings
4 C. cooked squash or pumpkin, mashed OR puréed OR 3 pkgs frozen pureed winter squash that has been cooked
1 T . olive oil
1 1⁄2 C. chopped onion
1 tsp. salt
2 small bell peppers (one red and one green, if possible), minced
4-5 medium cloves garlic, minced
black pepper and cayenne, to taste
1⁄2 C. firm yogurt
1 C. crumbled feta cheese
OPTIONAL: sunflower seeds and / or minced walnuts, for the top
Directions:
Heat oven to 375°.
Place the mashed or puréed squash in a large bowl.
Heat olive oil in medium-sized skillet. Add onion, sauté over medium heat for 5 minutes.
Add salt and bell peppers. Sauté 5 more minutes, or until the peppers begin to get soft.
Add garlic, black pepper, and cayenne, and sauté a few more minutes.
Add the sauté, along with yogurt and feta, to the squash, and mix well.
Spread into an ungreased 9-inch square baking pan; sprinkle the top lightly with sunflower and / or minced walnuts.
Bake uncovered for 25 to 30 minutes, or until bubbly.