Artichoke & kale dip
Keep it light during the holidays!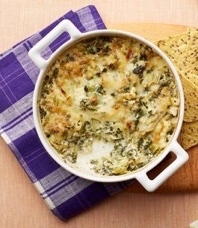 Warm and creamy, you'd never guess this is lower in calories and fat than the usual artichoke dip. Share it with friends - it's a health-smart party dish!.
It's adapted from The Food Network Kitchen.
Thanks, Karen Koeppe, Packard Health's Registered Dietitian, for serving it up. Yum!
Holiday Artichoke and Kale Dip (Adapted from the Food Network Kitchen)
Ingredients:
1 bunch lacinato kale, stems removed, chopped
2 cloves garlic, minced
1 Tbsp extra-virgin olive oil
1 jar of marinated artichoke hearts, drained and coarsely chopped
6-8 oz. Jarlsberg "lite" Swiss cheese, shredded
1/2 cup 1% milk
1/3 cup freshly grated Parmesan
4 ounces reduced-fat cream cheese
1/2 tsp Worcestershire sauce
Pinch cayenne pepper (~1/8 tsp or so)
1/4 tsp. Kosher sea salt (opt.)
Chia seed tortilla chips (Garden of Eatin' brand) *Chia seeds are high in omega-3 ALA fatty acids, heart-healthy!
Directions:

Preheat oven to 400 degrees.
Saute chopped kale & minced garlic in olive oil until kale just starts to wilt.
Combine kale, garlic, artichoke hearts, 1/2 of the shredded Swiss cheese, milk, cream cheese, Worcestershire sauce, cayenne, salt, and all but 1 Tbsp of the Parmesan cheese in a medium bowl.
Transfer to 1-qt baking dish (coated with olive oil cooking spray) and sprinkle with the remaining Swiss cheese and 1 Tbsp of Parmesan.
Bake until bubbly and light golden brown, 20-25 minutes. Let sit for 5 minutes and serve with Chia seed tortilla chips. Can also use red and green pepper strip dippers for festive flare (and antioxidants!)