Car seats = Safe kids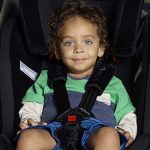 Did you know that 73% of car seats are not used or installed correctly? That's a fact that hurts. Motor vehicle crashes are a leading cause of death and disability among children in the U.S.
Every parent and grandparent needs to be smart about car seats. Here's how ...
Read the Safe Kids Worldwide Checklist
Right Seat, Right Place, Right Direction, Inch Test, Pinch Test - Checklist »
Get a Car Seat Check-Up
A certified child passenger technician evaluates your seat, ensures it's appropriate for your child, and teaches you proper installation. It only takes 20-30 minutes! And it's free!
Call the Mott Buckle Up! Program, 734-763-2251, to make an appointment.
Special note to parents-to-be: Call during your third trimester and be ready for that new person in your life.