Macaroni-rainbow veggie salad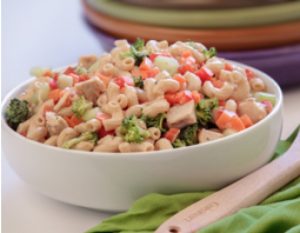 Summertime, the livin' is easy ... and the veggies are tasty! Here's a recipe that's all about summer. Nutritious, cook-ahead, and picnic-perfect, this salad deserves to be a summer favorite.
Heaps of thanks to Karen Koeppe, Packard Health's Nutritionist and Certified Diabetes Educator.
Summer Macaroni-Rainbow Veggie Salad
Ingredients:
1 cup uncooked whole-wheat elbow macaroni pasta
1/2 cup red bell pepper, diced
1/2 cup yellow pepper, diced
1/2 cup cucumber (peeled), diced
1/2 cup small broccoli florets
1/2 cup carrot shreds (salad aisle of
grocery store)
1 cup cooked chicken breast, diced
Dressing:
1/4 cup light canola mayonnaise
1 Tbsp red wine vinegar
1/8 tsp dried oregano
1/8 tsp freshly ground black pepper
Salt to taste, if desired
Directions:
Cook the pasta according to the package directions. Drain.
In a large bowl, mix together the pasta, red bell pepper, cucumber,
broccoli, carrots, and chicken.
In a small bowl, whisk together the dressing ingredients.
Pour the dressing over the pasta, vegetables, and chicken and mix well. Chill. Serves 4