Pumpkin soup with lentils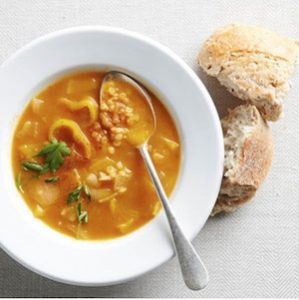 There's a chill in the air that calls for hot soup! Here's a recipe packed with beta-carotene and fiber. The fresh grated ginger root is a MUST for a spicy "kick"!
Heaps of thanks to Karen Koeppe, Packard Health's Nutritionist and Certified Diabetes Educator.
Pumpkin Soup With Lentils
Ingredients:
1 small sweet onion, cut into wedges
1 yellow sweet pepper, seeded, sliced
1/2 cup yellow lentils or lentils, rinsed
and well drained
1 tablespoon olive oil
2 teaspoons grated fresh ginger
1 teaspoon curry powder
1 teaspoon ground cumin
1 26 ounce box chicken stock
*Use Kitchen Basics Reduced-Sodium Chicken Stock (or Vegetable Stock)
1 15 ounce can pumpkin
*Use organic pureed pumpkin (canned)
Salt and ground black pepper
Freshly grated nutmeg (optional)
Snipped fresh flat-leaf Italian parsley (optional)
Directions:
In a 4-to 5-quart Dutch oven cook onion, sweet pepper, and lentils in hot oil over medium-high heat for 2 minutes. Whisk in ginger, curry powder, cumin, stock, and pumpkin puree. Bring to boiling; reduce heat to medium- low. Simmer, covered, for 25 minutes or until lentils are tender, stirring occasionally. Season to taste with salt and pepper.
To serve, ladle into bowls and sprinkle with grated nutmeg and flatleaf parsley.
Serves 4. Serving Size 1 1/2 cups
Prep: 20 mins
Cook: 25 mins