Spinach, ham & gruyere frittata - Eggs are making a comeback !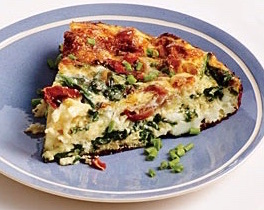 New government dietary recommendations (2/20/2015) state that dietary cholesterol now is "not considered a nutrient of concern for over-consumption."
So, consider the egg - and this light & yummy recipe.
Thanks, Karen Koeppe, Packard Health's Registered Dietitian, for serving it up.
---
Spinach, Ham, and Gruyere Frittata (Adapted from Cooking Light)
6 large eggs + 2 large egg whites
1/4 tsp Kosher salt
1/4 tsp freshly-ground black pepper
Dash nutmeg
1/3 cup 2% milk
3-4 cups organic baby spinach (*can also add 1/2 c. thinly-sliced mushrooms or red pepper strips)
2 cloves garlic (minced)
1 shallot (minced)
1 Tbsp extra-virgin olive oil
2 oz prosciutto or Canadian bacon (crisped and diced) - optional
1 Tbsp fresh chives, chopped
4 oz. shredded Gruyere or Swiss cheese
Preparation:
1. Preheat broiler to "high"
2. Combine eggs, egg whites, salt, pepper, nutmeg and milk; whisk till blended. Set aside.
3. Heat olive oil in a 9-inch cast iron skillet over medium heat and saute the garlic, shallot for 1-2 minutes. Add baby spinach and saute (stirring often) until wilted.
4. Layer in prosciutto (or Canadian bacon), chives, then sprinkle shredded cheese on top.
5. Carefully pour egg mixture over cheese. Cook over medium heat 5-6 minutes or til eggs are partially set; then broil for 5 minutes from heat for 3 minutes or til brown and set.
Serve with mixed citrus segments (oranges, grapefruit); can toss with a simple dressing of freshly-squeezed lime juice, Michigan honey, and a sprinkling of poppy seeds if desired.