Sweet potato enchiladas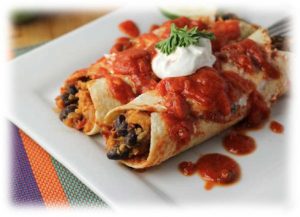 Karen Koeppe, Packard Health's Nutritionist and Certified Diabetes Educator, shares a recipe that's meatless, nutritious and big in south-of-the-border flavor.
Sweet Potato Enchiladas
3 cups cubed sweet potatoes (pre- prepped, in produce aisle)
1 large yellow onion, sliced
2 medium orange and yellow sweetbell peppers, thinly sliced
1 cup frozen whole kernel corn
4 cloves garlic, minced
1⁄2 tsp. dried oregano, crushed
1⁄2 tsp. cumin
1⁄2 tsp. chili powder
Dash kosher salt
A few grinds of black pepper
1-14.5 ounce can of petite-diced tomatoes
1 can pinto or black beans (rinsed, drained)
(6) 8-inch whole wheat tortillas
1⁄2-1 cup shredded reduced-fat Monterrey Jack or Sharp Cheddar cheese
Plain Greek yogurt (for topping)
Salsa (of choice, for topping)
Extra-virgin olive oil
Spread sweet potato cubes in a shallow roasting pan and toss well with 1 Tbsp. extra- virgin olive oil. Roast, uncovered, in a 425 degree oven for about 30 minutes until tender and golden brown. Stir half-way through.Meanwhile, for filling, sauté garlic and onion about 3 minutes, then add pepper strips. Saute for about 3-5 minutes more, then add corn, canned tomatoes, canned beans and all seasonings. Simmer, uncovered about 10 minutes until most juices have evaporated.
Fill each tortilla with 1⁄2 cup filling, 1/3 cup roasted sweet potatoes, and 1 Tbsp cheese. Roll-up. Place in a rectangular baking pan (coated with non-stick olive oil spray), and bake in a 350 degree oven for 15-20 minutes. Serve with a dollop of plain Greek yogurt and salsa.