Crockpot turkey meatballs with cranberry-BBQ sauce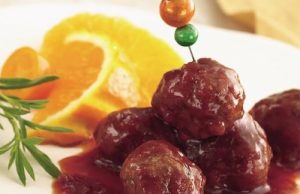 Healthy and handy for the holidays ... this do-ahead crockpot of turkey meatballs is a smart way to entertain. Karen Koeppe, Packard Health's Nutritionist and Certified Diabetes Educator, serves up another winning recipe.
These meatballs simmer in the crockpot while we make time for family and friends.
Crockpot Turkey Meatballs in Cranberry-BBQ Sauce
Ingredients:
1 can (16 oz) jellied cranberry sauce
1/2 cup barbecue sauce (select one without high fructose corn syrup)
1/8 tsp ground ginger
1 egg white
1 lb. lean ground turkey
1 green onion, thinly sliced
2 tsp grated orange peel
1 tsp tamari or "lite" soy sauce
1/4 black pepper
Directions:
1. Combine cranberry sauce, barbecue sauce and ground ginger in slow cooker (crockpot). Cover and cook on HIGH 20-30 minutes or until cranberry sauce is melted and mixture is heated through.
2. Meanwhile, beat egg white in medium bowl. Add turkey, green onion, grated orange peel, soy sauce,and black pepper. Mix well and shape into 24 meatballs.
3. In large nonstick skillet heat 2-3 tsp extra-virgin olive oil over medium-high heat. Add meatballs and cook 10 minutes or until browned on all sides. Add to slow cooker, stir gently to coat with sauce mixture.
4. Cover and cook on LOW for 3 hours. Serve warm. Makes 24 meatballs.