Bringing health care to local family shelters
November 18, 2016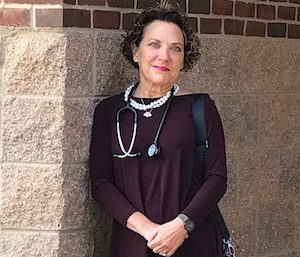 Lori Bennett, Nurse Practitioner, has a friendly smile and warm heart. Compassionate and capable, she is a welcome visitor to families living in local family shelters across Washtenaw County.
In the course of a week, Lori visits INH-Alpha House, SafeHouse Center, Ozone House and Staples Family Center. She offers care and connections, identifying immediate health needs, making referrals, setting up appointments to see her at Packard Health or The Corner Health Center. Lori's specialty is building trust with families in distress.
Lori created the model of care, FSHARP (Family Shelter Assessment and Referral Program) and it is now a collaboration between the Corner Health Center and Packard Health. The program is funded by Washtenaw Coordinated Funders. The goals of the program are to provide on-site healthcare to families in shelter and also to connect families to primary care in the community. FSHARP is a grand example of community partners coming together with creative, effective solutions for our most vulnerable neighbors.
Housing instability and poor health go hand-in-hand. Lori serves the mothers, fathers and children who deal with those stressors every day. Thanks, Lori, for all that you do.