Food Pantries and Fresh-a-Sprout Market
June 1, 2023
Food insecurity and a lack of access to fresh food is a very real issue in our community. Packard Health is trying to help fill the gap for its patients, offering two food pantries stocked by Food Gatherers, and the seasonal Fresh-a-Sprout FREE fresh food market.
If you have any questions, please call: 734.971.1073
---
Fresh-a-Sprout FREE Fresh Food Market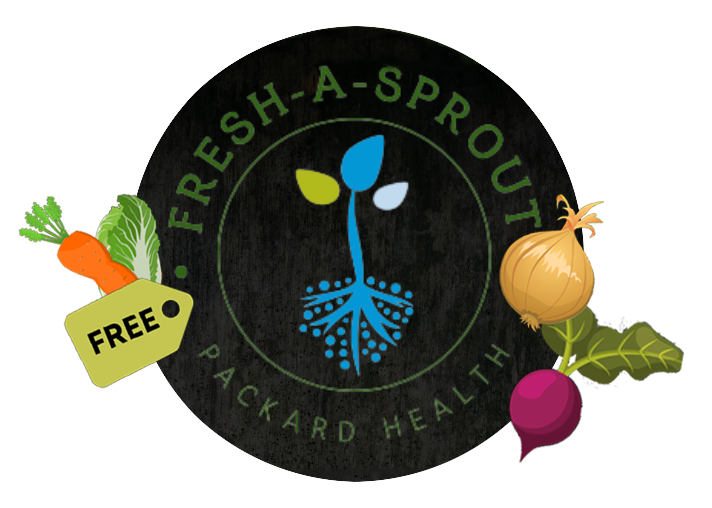 All the food offered in the Fresh-a-Sprout market is donated by The Farm at Trinity Health and is FREE to all community members. It will be held each Friday unless there is heavy rain/snow fall and/or thundering and lightening. ​​​​​​​It runs through the end of produce season.
The Fresh-a-Sprout market rotates through all 3 clinic locations and is open from 10 am until approximately 1pm (or until supplies run out).
---
Food Pantries
Appointments are not necessary and everything is free and open to the entire community- patients and non-patients!
NOTE: All food pantries are closed during the lunch hour (noon to 1 pm) everyday.
Packard Carpenter Pantry
2650 Carpenter Road, Ann Arbor
Monday: 8:00am - 4:00pm
Tuesday: 8:00pm - 4:00pm
Wednesday: 8:00am - 4:00pm
Thursday: 8:00am - 4:00pm
Friday: 1:00pm - 5:00pm (pantry is closed Fri. morning)
Packard West Pantry
1915 Pauline Blvd., Ann Arbor
Monday: 8:00am - 4:00pm
Tuesday: 8:00am - 4:00pm
Wednesday: 8:00am - 12:00pm (pantry is closed Wed. afternoon)
Thursday: 8:00am - 4:00pm
Friday: 8:00am - 4:00pm
Packard Ypsilanti Pantry
200 Arnet St., Suite 110
Monday: 9:00am - 4:30pm
Tuesday: 10:00am

- 4:30pm

Wednesday: 11:00am - 4:30pm
Thursday: 9:00am -

4:30pm

Friday: CLOSED