Crisp 'n Crunchy Michigan Apple Salad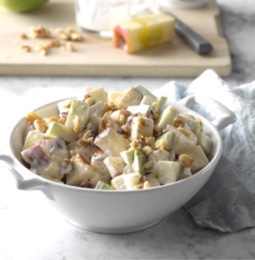 Karen Koeppe, Registered Dietitian and Certified Diabetes Educator shares a fall favorite. Celebrate apple season with this recipe that's low in fat, high in "mmmmm!"
Fall is the perfect time to make this salad. Apples are in top-of-the-season form!
Ingredients:
1 cup fat-free vanilla yogurt
1 Tbsp Michigan honey
1/4 teaspoon plus 1/8 teaspoon ground
cinnamon, divided
2 medium red apples, chopped
1 large Granny Smith apple, chopped
1/4 cup dried cranberries or dried
Michigan tart cherries
2 tablespoons chopped walnuts or pecans
Directions:
In a large bowl, combine the yogurt, honey and 1⁄4 teaspoon cinnamon. Add apples and dried cranberries (or cherries); toss to coat. Refrigerate until serving. Sprinkle with nuts and remaining cinnamon before serving.