Hometown Health Hero - Lori Bennett, FNP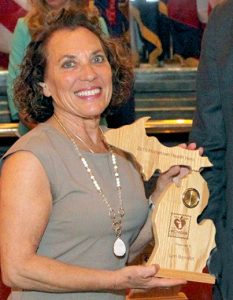 Lori Bennett, Family Nurse Practitioner, has a friendly smile and warm heart, and she brings that caring to her patients at Packard Health as well as to family shelters across the county.
Lori received a great honor last week - 2019 Hometown Health Hero from the Michigan Public Health Week Partnership. Lori created a program called F-SHARP (Family Shelter Assessment and Referral Program). She visits families in shelters across the county and connects them with health care at Packard and The Corner Health Center.
On her visits to INH-Alpha House, SafeHouse Center, Ozone House and Staples Family Center Lori meets with families, identifying immediate health needs, making referrals, and setting up appointments to see her at Packard Health or The Corner Health Center.
The program is funded by Washtenaw Coordinated Funders.
Housing instability and inability to access health care go hand-in-hand. Lori serves the mothers, fathers and children who deal with those stressors every day. Her specialty is building trust.
We applaud Lori for her "get-out-there-and-do-it" attitude. She saw a need; she created a solution.
Congratulations, Lori. You're our Hometown Health Hero!