It's greek to me dip
Good News, Good Eating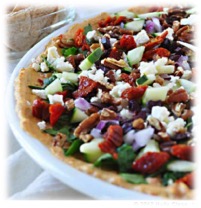 The Mediterranean Diet is all about savoring food, family and friends. Whip up this dip and wait for the compliments. Karen Koeppe, Packard Health's Nutritionist and Certified Diabetes Educator, shares a Mediterranean Diet recipe, adapted from WebMD. The dip is easy to make and easy to love.
It's Greek to Me Dip
1-10 oz. container of plain, roasted red pepper or lemon hummus
1 cup chopped baby spinach or kale leaves
1⁄2 cup chopped sun-dried tomatoes, packed
in olive oil (or reconstituted)
1⁄2 cup chopped, peeled, seeded cucumber
1⁄4 cup chopped red onion
1⁄4 crumbled reduced-fat feta cheese or
crumbled goat cheese
2 Tbsp sliced Kalamata olives (pitted)
1⁄4 chopped pecans, toasted
Extra-Virgin Olive Oil (EVOO)
Method:
1. Spread hummus on a 9-inch glass serving plate; drizzle with a small amount of EVOO
2. Sprinkle remaining ingredients evenly over the top; refrigerate until serving time.
3. Serve with baked pita chips and enjoy!