New outreach services at Miller Manor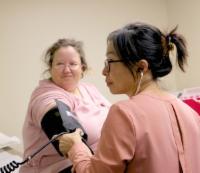 Small space, big impact - that's the great storyline about the expanded outreach services at Miller Manor.
Packard Health and Avalon Housing, in partnership with the Ann Arbor Housing Commission, have opened a new space that addresses the specific health challenges faced by chronically homeless and medically vulnerable individuals and families.
The initiative builds on past success. Since October 2016 Dr. Ravi Vadlamudi, MD and Gina Dahlem, NP have provided on-the-ground, "backpack" medical care to 141 individuals in their homes or onsite at Miller Manor. Outcomes have been significant:
Improvements in patients' health and quality of life
Major reduction in utilization of emergency rooms
77% of patients seen by Packard had utilized ER one year before
92% of these patients had a reduced or no use of ER after engaging with Packard
We are grateful to Avalon Housing for providing funding for expanded outreach at Miller Manor.