Oven-roasted salmon and asparagus with quinoa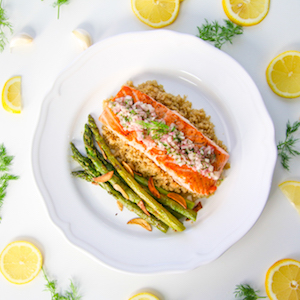 Just in time for spring, here's an easy recipe that partners nutrition-packed salmon, in-season asparagus and the "supergrain" quinoa. Thank you, Karen Koeppe, Packard Health's Registered Dietitian and Certified Diabetes Educator.
Oven-Roasted Salmon and Asparagus with Quinoa
Ingredients:
1 lb fresh asparagus spears (look for Michigan-grown)
8 ounces salmon fillet (cut into two 4oz. portions); wild-caught preferred
Extra-virgin olive oil
Kosher salt, freshly-ground black pepper
1⁄2 cup uncooked quinoa (try "Ancient Harvest"- no rinsing required)
1 cup unsalted chicken stock
1-2 green "spring" onions, sliced
1-2 tsp lemon juice, freshly squeezed (1/2 lemon)
1⁄2-1 tsp minced fresh dill
4 lemon wedges
Directions:
1. Preheat oven to 400 degrees
2. Snap tough ends off asparagus, place in a large non-stick roasting pan. Toss gently with 1-2 tsp olive oil and oven-roast for 7-8 minutes. Turn asparagus with tongs and push to side of pan.
3. Arrange salmon fillets skin side down, on other side of roasting pan. Brush each with 1⁄2 tsp olive oil, season with a pinch of kosher salt/pepper. Oven-roast for 13-15 minutes or until cooked to desired doneness.
4. Meanwhile, bring 1 cup chicken stock to a boil in a small saucepan; stir in quinoa. Reduce heat to low, cover and simmer for 10-15 minutes until quinoa is translucent, fluffy and water is absorbed. Transfer to a bowl.
5. Remove asparagus from roasting pan and slice into 2-inch pieces.
6. Gently add asparagus, green onions, lemon juice, fresh dill, remaining 1 tsp of olive oil, and salt/pepper to the quinoa bowl. Transfer to 2 serving plates and top with salmon fillets. Garnish with lemon wedges and think spring!