Packard in the Community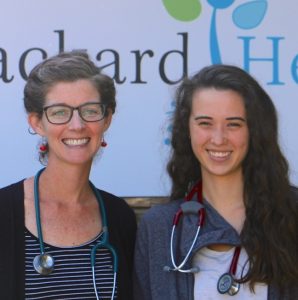 Good work team! Lots of community connections:
Packard is one of 11 "hublets" (community organizations) in Washtenaw and Livingston counties working to decrease inappropriate and unnecessary ER visits, via the State Innovation Model (SIM), a federally-funded project. By identifying underlying issues, the project seeks to match frequent users with appropriate medical or social services treatment. Thank you to Rebecca Fleming and Manisha Cole (pictured at left)!
Presentations to UM Medical Students about "Social Determinants of Health, Health Care Disparities and how Packard Health addresses these from a Team-Based Approach" - Ronald Romero, Katie, Marquez, Karen Koeppe and Amy Rendon presented and talked about their experience at Packard.
Sarah Bur and Gina Dahlem were panelists at Home of New Vision Event - "Highlighting Community Collaborations that Support Long-term Recovery."
AAPS English Language Learning summer project at Scarlet Middle School, "Make a Living/ Make a Life." Katie Marquez, Patient Advocate Coordinator hosted students at Packard.