Packard Pacers "Walk with a Doc" kickoff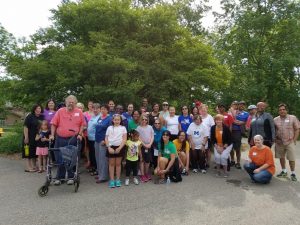 Saturday morning, June 3, County Farm Park. Sunshine! Music! Smiles! Healthy Snacks!
Almost 50 folks of all ages joined together for our first walk of the summer season! Packard Health family physician Ron Romero welcomed everyone and spoke about the benefits of exercise and walking, including building a healthy community. Karen Koeppe (coordinator and staff diabetes educator) led stretches and warm-up. Participants received a "Walk with a Doc" fitness pedometer and chose to go on either a short or long walk along beautiful, established trails within the park. Walkers were accompanied and encouraged by Packard staff including Dr. Romero, Amy Rendon, Marisa Iaderosa, Kaylee Trone and Karen Koeppe.
Group walks continue every Saturday in June and July (except July 1) and we'll have prize drawings at our final celebration. You can join at any time - just come on out at 9:30 AM on Saturdays! Use the Platt Rd. entrance to County Farm Park and meet under the pavilion. See YOU at the Park! Walk With A Doc