Pasta Primavera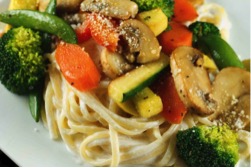 Nothing says "springtime" like this dish of colorful, lightly cooked veggies. "Primavera" means springtime in Italian.
Thank you to Karen Koeppe, Packard Health Registered Dietitian and Certified Diabetes Educator for this recipe.
Pasta Primavera Italian (alla) primavera: In the style of springtime!
Ingredients
6 ounces dried linguine (regular or whole wheat)
3 tablespoons extra-virgin olive oil
2 cups fresh broccoli flowerets (small)
1 cup bias-sliced carrots (2 medium)
1 medium onion, cut into thin wedges
1 c. sliced button or baby portabella mushrooms
1-2 cloves garlic, minced
1 cup fresh snow pea pods or sugar snap peas
1/4 - 1/2 cup cashews, coarsely chopped (optional)
1/4 cup dry white wine or organic chicken broth
1 teaspoons dried thyme or Italian herbs, crushed
1/4 teaspoon freshly ground black pepper
1/4 cup grated Parmesan cheese
Directions
Cook linguine for 8 to 10 minutes or until tender but still firm. Drain well.
Meanwhile, in a large skillet warm the olive oil. Stir in broccoli, carrots, onion, and garlic. Cook and stir over medium-high heat about 3 minutes or until broccoli and carrots are crisp-tender.
Stir in snow pea pods or sugar snap peas. Cook 2 minutes more (do not overcook!)
Stir in cooked and drained linguine, cashews, wine or broth, herbs, and pepper. Cover and cook 1 minute more. Sprinkle with Parmesan cheese. Makes 4 main dish servings.
Serve with a baby spinach salad and luscious springtime strawberries for dessert!