Pork Tenderloin with Blackberry Sauce
Good-For-Us! Eating Well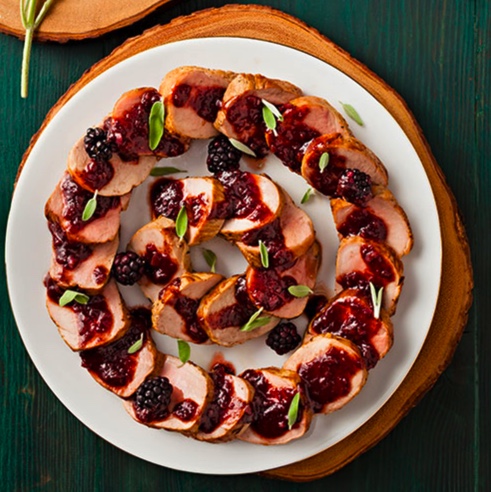 "Has healthy autumn eating ever looked so good?" asks Karen Koeppe, Packard Health's Nutritionist and Certified Diabetes Educator.
"Pair it with multi-colored fingerling potatoes," says Karen. See her tip below. Recipe from The Healthy Living Magazine, Diabetes Forecast
Pork Tenderloin with Blackberry Sauce
Ingredients:
Parchment paper
2 pork tenderloins (1 lb. each)
1⁄2 tsp Kosher Salt
1⁄2 tsp freshly ground black pepper
11⁄2 Tbsp olive oil
1⁄2 cup no-sugar-added blackberry preserves
1⁄4 cup low-fat, reduced-sodium chicken broth
1 Tbsp red wine vinegar
1 tsp light soy sauce
1 large shallot, peeled and finely minced
1⁄4 cup dry white wine
Garnish
2 Tbsp freshly minced sage
1 Tbsp lemon zest
1⁄2 cup fresh or frozen (thawed and drained) blackberries
Directions:
1. Preheat oven to 400° F. Line baking sheet with parchment paper; set aside.
2. Sprinkle pork tenderloins with salt and pepper. Heat olive oil in a large skillet over medium-high heat. Add pork and sear for 5 to 6 minutes. Turn pork and sear for an additional 5 to 6 minutes. Place pork on the prepared baking sheet and roast for 15 to 17 minutes, until desired doneness.
3. In a small bowl, combine the preserves, broth, vinegar, and soy sauce.
4. Add the shallot and white wine to the skillet and sauté for 3 to 4 minutes, until the wine is absorbed and you're scraping up the brown bits as you sauté. Add blackberry sauce and simmer on low heat for 1 to 2 minutes.
5. Slice the cooked pork and place on a platter. Drizzle the pork with the blackberry sauce and garnish with the sage, lemon zest, and blackberries.
Karen's Tip: Serve with roasted multi-color fingerling potatoes (1 lb. scrubbed, cut in half length-wise and tossed with 1 Tbsp of olive oil, a bit of kosher salt and ground pepper). Spread on baking sheet (lined with parchment paper) and nestle the pork tenderloins in the middle of the pan, roast together as directed in the recipe at 400 degrees. I check internal temp at 20 minutes, aim for 165 degrees.