Dr. Ronald Romero honored as Clinician of Year by MPCA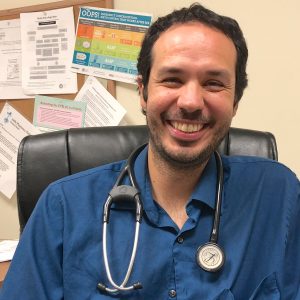 Growing up in Miami, poor, uninsured, and undocumented in a single mother household, Ron Romero could never have envisioned that one day he would be honored as 2018 Clinician of the Year by the Michigan Primary Care Association (MPCA). That is exactly what occurred on July 25, 2018 as Dr. Ronald Romero of Packard Health received the award at MPCA's annual conference.
The award honors a Michigan Health Center clinician who exemplifies leadership, dedication, and commitment to providing quality health care to Michigan residents.
Dr. Romero is recognized for providing care that bridges linguistic and cultural barriers to health care access. He is a native Spanish speaker. "My goal is to create a hub for the Latino community, a place where patients feel safe, with trusted providers and outreach resources," he says.
At Packard Health Dr. Romero's day is filled with patients young and old. Word of mouth in the community attracts parents, cousins, and whole families to a family practice where everyone knows everyone. "Care is improved when a caregiver knows about a patient's life – money worries, immigration uncertainty, rent due, 3 jobs and all the emotional and physical strains these circumstances entail, " he said.
"Dr. Romero builds strong relationships with each of his patients in the most tender way, as he accompanies them on their journey to wellness," said Ellen Rabinowitz, Health Officer, Washtenaw County Health Department and Packard Health board member. "I've referred a number of my friends and family to him because I know that they will receive great care. Dr. Romero, and all of the providers at Packard Health, take their time with each patient, and deliver comprehensive care that addresses all of the patient's needs."
In a note to Packard Health staff, he expressed his appreciation. "This honor is at its core a Packard-wide award and a reflection of the incredible time and work everyone at Packard puts in to care for our patients. It's this commitment to serving our under-served community that makes Packard so unique and what makes it such an honor to work alongside each of you in our shared mission. This really is a special Packard family."
After college, Dr. Romero worked in a variety of fields including consulting and law without feeling like he had found his professional calling. It wasn't until he was on a soul searching cross-country road trip that he turned to his wife in the Arizona desert with a sudden but hesitant clarity and stated, "I think I want to be a doctor". Many in our community are so glad she said, "Yes! That's it."