Sweet potato chili for chilly nights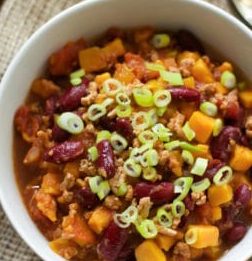 Packard Health's Registered Dietician, Karen Koeppe shares a heart-warming chili made with a variety of beans and sweet potatoes before being simmered in spiced and diced tomatoes. It's a crowd-pleaser, budget-friendly, readily whipped up on the stovetop in under 30 minutes!
Ingredients
2 cans (14.5 ounces) diced tomatoes with chilies
1 can (14.5 ounces) kidney beans
1 can (14.5 ounces) black beans
1 can (14.5 ounces) garbanzo beans
1 large sweet potato, diced
1 large green bell pepper, diced
1 large yellow bell pepper, diced
3 garlic cloves, minced (My local favorite: Dyer Family Organic Farm Garlic – any variety – available at Argus Farm Stop located at 1200 Packard Rd. http://www.argusfarmstop.com/)
1 medium yellow onion, diced
2 tablespoons chili powder (can modify according to personal preference)
1 teaspoon ground cumin
1/4 teaspoon ground cinnamon – Yes!
Dried red chili flakes, to taste
2 cups low sodium vegetable stock
Instructions
Saute garlic, onion, diced sweet potato and spices in 1 Tbsp olive oil until soft and fragrant.
Add 2 c. vegetable broth, canned tomatoes, beans(drained and rinsed) and diced peppers
Bring to a boil, then simmer for 20 minutes until the sweet potatoes are tender
Serve chili hot with optional toppings (e.g. sliced green onions, sliced jalapenos, dollops of plain non-fat Greek yogurt)
What's new at Packard Health?