Packard Health Integrated Care 2.0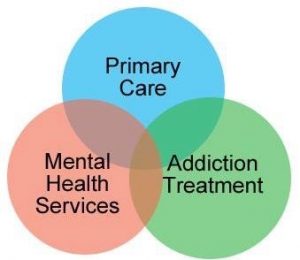 Health care at Packard Health has always been integrated and coordinated under one roof. That's been our model since we opened our doors exactly 45 years ago this September. Primary AND mental health care professionals work closely together at each of our 3 offices.
Strong relationships are the cornerstone at Packard Health - patient, provider, and therapist are a team, and communication and collaboration are key. For our patients, the Packard Care team model is a proven winner. For those with complex medical needs and complicated lives, it is often life-changing.
In 2018 Packard Health Integrated Care rose to the next level with the addition of our Addiction Treatment Services team. We've gathered an exceptional group of trained and experienced addiction specialists. Led by Assistant Medical Director of Addiction Services, Sarah Bur, MD, the team works seamlessly with our primary and mental health care staff. Integrated care that includes addiction treatment options has never been more urgent - in Washtenaw County one resident overdoses on opioids every day, and one resident dies of overdose every week.
45 years ago Packard Health was a pioneer in integrated health care. Today we are still at it, working that model that has improved so many lives.
I want to take this opportunity to personally and professionally commend our caregivers. Their commitment is the key to Packard Care. Together with our patients, we are a team, and that's what integrated health care is about.
Raymond Rion, MD
Executive Director