Michigan Indian summer casserole
September 19, 2016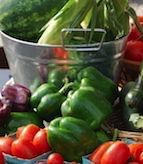 Enjoy the last days of Indian summer with Michigan sweet corn, peppers and tomatoes. Make sure to visit your favorite Farmers' Market for the veggie ingredients!
Thank you to Karen Koeppe, Packard Health Registered Dietitian and Certified Diabetes Educator for this recipe.
---
Michigan Indian Summer Casserole
Adapted from Mollie Katzen's Still Life with Menu
2 cups Michigan sweet corn (freshly-cut from ears, or frozen)
3 large bell peppers (green, yellow, orange – one of each), diced
2 medium vine-ripened tomatoes (try the Green Zebra heirloom variety), diced
2-3 large cloves of garlic, crushed or minced
1 large shallot, diced
1 Tbsp extra-virgin olive oil
1⁄2 tsp salt (opt)
1 tsp ground cumin
1⁄2 tsp oregano
Several leaves of fresh basil, minced
Lots of freshly ground black pepper
1⁄4 tsp cayenne pepper
1⁄2 cup chopped olives (green and black)
1 4-oz can chopped green chilies
1⁄2-1 cup (packed) grated mild white cheese (Monterrey Jack)
4 large eggs or 1 cup of Egg Beaters egg substitute
1⁄2 c. plain Greek yogurt
Paprika, for dusting the top
METHOD:
Preheat oven to 375degrees; butter a 6x9 oval casserole dish
In large skillet, sauce the corn, peppers, tomatoes, garlic and shallot in olive oil with salt, cumin, and oregano. Saute quickly over medium-high heat, stirring often. After about 8 minutes, remove from heat.
Stir in basil, pepper, cayenne, olives and green chilies. Stir in cheese until it melts.
Spread mixture into oval casserole. Beat eggs with the plain yogurt and gently pour this mixture over the seasoned veggies. Dust moderately with paprika.